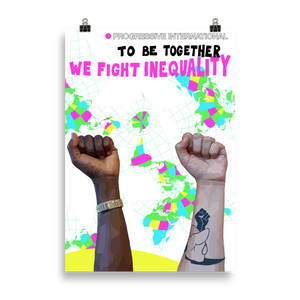 We Sell Reality collective — To Be Together, We Fight Inequality
We invited artists and cultural workers from around the world to visualise what internationalism in the 21st century means for them.
This poster is made by We Sell Reality, an open-source collective of undocumented and documented social designers that creates products, installations and public interventions with the aim of providing insight into the lives of undocumented refugees and in search of practical solutions that can improve the living conditions of refugees in limbo.
20% of the proceeds of your purchase will go toward supporting the artists. 80% will go towards sustaining the Progressive International, including the activities of its members.
The poster is made on thick and durable matte, acid-free paper.
Dimensions: 21×30 cm, 50x70 cm, 70x100 cm
Paper thickness: 10.3 mil
Paper weight: 5.57 oz/y² (189 g/m²)
Giclée printing quality
This poster is also available as a free download here.