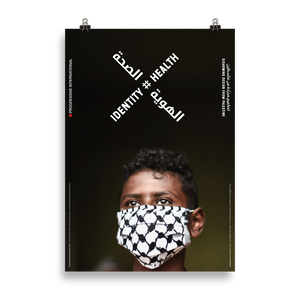 Disarming Design — IDENTITY # HEALTH
We invited artists and cultural workers from around the world to visualise what internationalism in the 21st century means for them.
Disarming Design from Palestine is a thought-provoking design platform for the development and presentation of contemporary design, spreading alternative narratives about life under occupation and investing in creative practices as forms of resistance and resilience. Mohammad Musallam is a visual artist from Gaza based in Canada.
20% of the proceeds of your purchase will go toward supporting the artists. 80% will go towards sustaining the Progressive International, including the activities of its members.
The poster is made on thick and durable matte, acid-free paper.
Dimensions: 21×30 cm, 50x70 cm, 70x100 cm
Paper thickness: 10.3 mil
Paper weight: 5.57 oz/y² (189 g/m²)
Giclée printing quality
This poster is also available as a free download here.